Editor's Word
Dear Colleagues,
We are deeply saddened by the demise of H.E. Dr. Mohammed Abdo Yamani who passed away on November 8, 2010. He was the incumbent Chairman of the Gulf Federation for Cancer Control elected together with the GFCC Board last February 2009. It is a great loss to the GFFCC and the federation will surely miss him. He was an advocate of cancer awareness and strongly believed on the federation's purpose. He has supported the federation in many countless ways and encouraged action and participation in the pursuit of our mission.
Dr. Yamani is an intellectual and thinker in the Arab and Islamic world. He wrote 35 books covering cultural and religious
topics. Some of his works have been published in English. He has many significant contributions and achievements in the social, cultural, media and even sports. Loved and respected by all, Dr. Yamani was a well-known philanthropist. He was the Vice-Chairman of Dallah Al-Baraka, one of the Kingdom's leading companies. He was also chairman of 12 national and international companies and establishments which specialize in culture, publishing, health, education and investment. He was a member of the board of directors of at least 10 companies including banks. He was the founder of the Assembly of Holy Quran in Makkah. He won several honors including the King Abdul Aziz Sash as well as medals from the governments of Mauritania, Indonesia, Jordan, France, Spain, Qatar and the UAE. He was a former Minister of Information and Minister of Culture and Media in the Saudi government.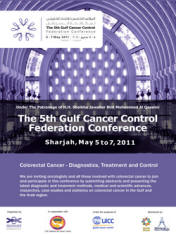 The 5th Gulf Federation for Cancer Control Conference on Colorectal Cancer will be held in Sharjah, UAE on May 5-7, 2011. This conference is sponsored by the Friends of Cancer Patients (UAE) under the patronage of H.H. Sheikha Jowaher Bint Mohammed Al Qassimi of the United Arab Emirates. The GFFCC Conference is a regular conference held every two years, the last one was held in Yemen in 2009 focusing on Head and Neck cancer, for the purpose of enhancing participation and collaboration among cancer professionals and organizations in the region.
The focus of the next conference is the prevention and management of Colorectal Cancer highlighting new researches and advances in this field. We have invited experts and international speakers to share their knowledge and expertise in their areas of expertise. We are inviting oncologists in the gulf region and the Arab world to participate and submit their abstracts in this conference. More information on this conference can be found online at http://www.gfoc2011.com
Best regards,
Dr. Khaled Al Saleh
Editor-in-Chief